3105 Coated Aluminum Coil
General Details
3105 Coated Aluminum Coil
3105 Color Coated Aluminium Coil
3105 color coated aluminum coil sheet is an essentially 98% pure aluminium alloy with minor additions for strengths, because it has manganese,  its corrosion resistance is very good, and also its strength is greater than 1000 series alloys, but its price is almost same as 1000 series alloys, therefor it is widely used for making roofing.
Alloy:3105
Temper:HO,H12,H14,H16,H18,H22,H24,H26,H28
Thickness:0.2mm-6.0mm
Width:80mm-2300mm
Standard production:ASTM-B-209M,BS EN 485-2,BS EN 573-3,GB/T3880-2008
MOQ:5 tons per size
Mother coil:DC or CC
Weight:about 2 mts per pallet
Surface:Color Coated, Many kinds of color
Package:Export standard package with wooden pallet
Delivery time:within 30days
Origin:China
Certificate: Mill Test Certificate,Certificate of origin:Form A,Form E,CO
Regular size:1.0*1219*C,2.0*1220*C,3.0*1200*C,2.5*1250*C,3.0*1500*C,2.0*1500*C
Chemical Properties – 3105 Color Coated Aluminium Coil Strip
Alloy Designation
Si
Fe
Cu
Mn
Mg
Cr
Ni
Zn
Ti
Ga
V
Remarks
Others
Aluminium
min
Numerical
Chemical Sympols
Each
Total
EN AW
-3105
EN AW-
AI Mn0.5
Mg0.5
0.6
0.7
0.3
0.30-0.8
0.2-0.8
0.20
–
0.40
0.10
–
–
–
0.05
0.15
Remainder
Mechanical Properties – 3105 Color Coated Aluminium Coil Strip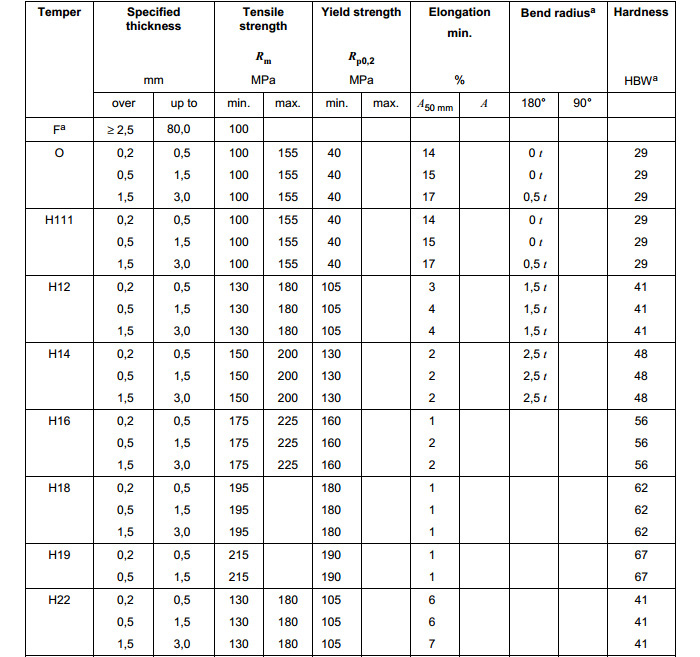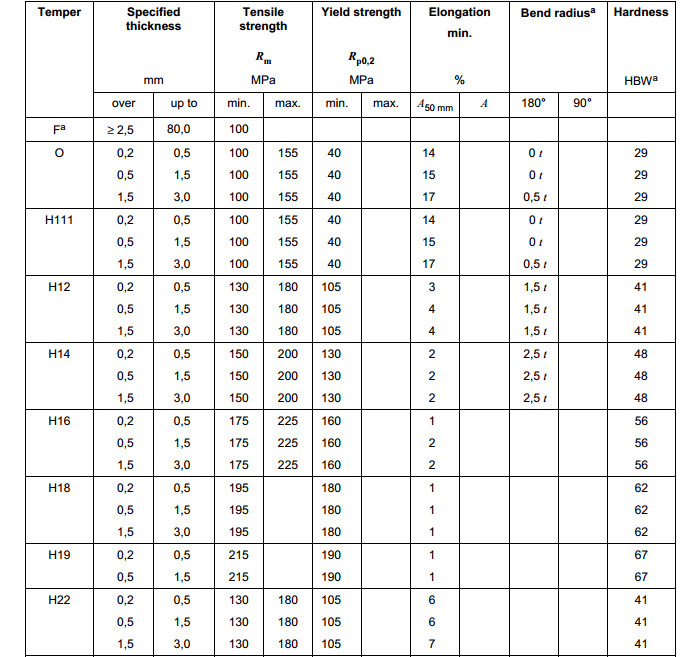 3105 Color Coated Aluminium Coil Strip Feature
1. Good corrosion resistance
2. Good weldability
3. Good plasticity
3105 Aluminium Coil Strip Application
Appplication : construction, roofing, decoration, lamping etc.
This series aluminum coil can be used to process plates, coils, foils, thick plates, extrusion pipes, etc. It can be used to produce bars and wires which can be processed with cold working.
It is used to process parts which require good forming property, high anti-corrosion or good weldability. It can be used to produce parts which not only have these property, but also have higher strength than parts made by the 1000 series aluminum coil, such as the troughs and cans used to transport liquids, pressure cans, storage devices, heat exchangers, chemical equipment, etc.
Can be used in the manufacture of chemical equipment, inland marine equipment, construction and decoration,conductive materials,road signs,hardware,and also wildly used in cooking utensils with beautiful surface.
---
Contact Form
---
Product Images