3003 Coated Aluminum Coil
General Details
3003 Coated Aluminum Coil
3003 Color Coated Aluminium Coil
Introduction
3003 color coated aluminum coil sheet is an important alloy in China, price cheaper than 3105, and almost same as 1100、1060、1070 etc alloy, but has medium strength with good resistance to atmospheric corrosion, and very good weldability as well as good cold formability. It has better mechanical properties, especially at elevated temperatures than the 1000 series alloys. Therefore
3003 aluminum coated coil sheet is widely used for building industry, such as roofing and sidings, ceilings, corrugated sheets, good for insulation of heating and cooling.
Alloy:AA3003
Temper:HO,H12,H14,H16,H18,H22,H24,H26,H28
Thickness:0.2mm-6.0mm
Width:80mm-2300mm
Length:100-11000mm
Standard production:ASTM-B-209M,BS EN 485-2,BS EN 573-3,GB/T3880-2008
MOQ:5 tons per size
Mother coil:DC or CC
Weight:about 0.3-2.5mts per pallet
Surface:Color Coated, Many kinds of Color
Package:Export standard package with wooden pallet
Delivery time:within 30days
Origin:Zhengzhou,China
Certificate: Mill Test Certificate,Certificate of origin:Form A,Form E,CO
Regular size:1.0*1219*2438,2.0*1220*2440,3.0*1200*2400,3.0*1200*3600,2.5*1250*2500,
3.0*1500*3000,2.0*1500*3600
Chemical Properties – 3003 Color Coated Aluminium Coil Strip
Alloy Designation
Si
Fe
Cu
Mn
Mg
Cr
Ni
Zn
Ti
Ga
V
Remarks
Others
Aluminium
min
Numerical
Chemical Sympols
Each
Total
EN AW
-3003
EN AW-
AI Mn1Cu
0.6
0.7
0.05-0.2
1.0-1.5
–
–
–
0.10
–
–
–
–
0.05
0.15
Remainder
Specification – 3003 Color Coated Aluminium Coil Strip
| | |
| --- | --- |
| Product Name | 3003 Aluminum Coil Strip |
| Thickness(mm) | 0.0065-150mm |
| Width(mm) | 25mm-2200mm |
| Packing | Export standard, covering with brown paper and plastic film then packed with wooden case/pallet, eye to wall or eye to sky |
Mechanical Properties – 3003 Color Coated Aluminium Coil Strip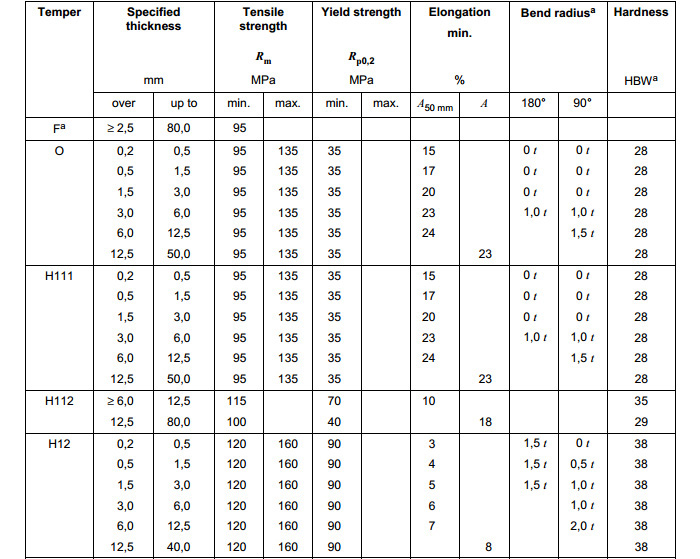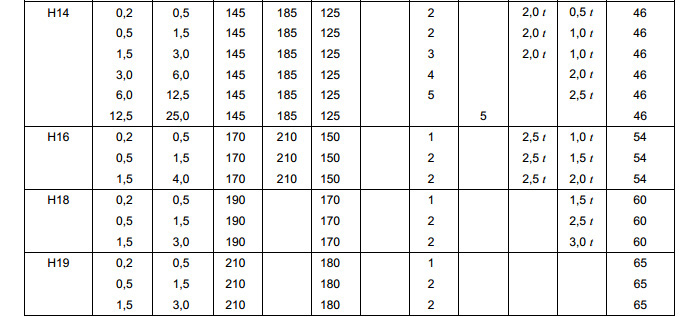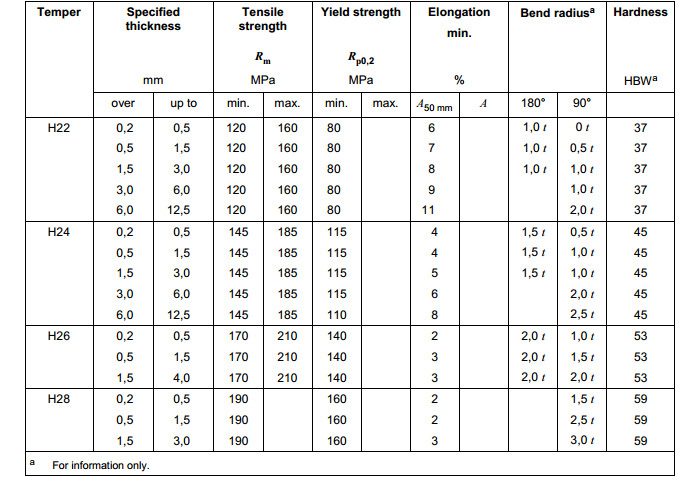 Application : – 3003 Color Coated Aluminium Coil Strip
Application of Aluminum foil 3003 O, H24
Al – Mn aluminum foil 3003 is a kind of anti-rust aluminum to be used widely.This alloy strength is
not high(slightly higher than industrial pure aluminum) and it can't heat treatment to strengthen,
so the cold working method is adopted to improve its mechanical properties.
Aluminum foil 3003 has high plasticity in annealing state and in a cold working hardening plasticity
is good. when the cold work hardening, it has low plasticity , good corrosion resistance, good
weldability, But cutting performance is bad. Many industries Purposes are mainly used for low load
parts in a liquid or gas medium taking advantages of its high plasticity and good weldability, such as
post box, gas or oil duct, and other various liquid containers, deep drawing parts.
---
Contact Form
---
Product Images